Endosure Hypochlor 1% - 1.25litre Bottle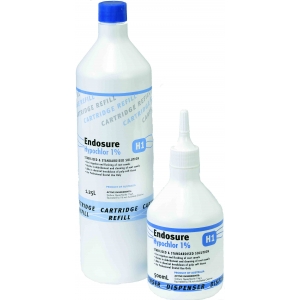 Product Information
Purchase Price (inc GST)
$21.71
| Quantity | Price (inc GST) |
| --- | --- |
| 1 | $21.71 |
| 3 | $20.16 |
| 12 | $19.39 |
Product Description
HYPOCHLOR 1% Solution
Reliable performance over 2 year shelf-life.
First purpose designed, irrigation solution containing Sodium Hypochlorite for use in endodontic procedures to assist debridement and cleaning of the root canal. Also aids in chemical breakdown of pulp soft tissue.
First TGA approved hypochlorite irrigation solution in Australia (replaced non-approved sources)

Formulated specifically for use in dental endodontic procedures.

Contains pharmaceutical wetting agent for improved activity and response.

Formulation is standardised and stabilised.
Refer Aust. Dental Journal 2006;51:(3):245-251, "Dissolution of porcine incisor pulps in sodium hypochlorite solutions of varying compositions and concentrations" for supporting information.
DL0603 HYPOCHLOR 1% Solution 1.25 Litre Refill