Clinicare Alcohol 70% Ipa Towelette Canister (220) 15.2x23.2cm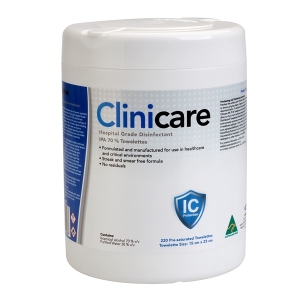 Product Information
Purchase Price (inc GST)
$16.63
| Quantity | Price (inc GST) |
| --- | --- |
| 1 | $16.63 |
| 12 | $15.44 |
Product Description
Clinicare IPA 70%
Safe to use on most surfaces and equipment
• IPA 70% is the preferred alcohol for general purpose use in medical and dental environments
• Evaporates after use without leaving residues
• Available in both Solutions and Wipes
• Available in Clear and Blue solutions
Clinicare IPA 70% Alcohol Wipes Canister 220 25gsm - 15.2cm x 23.2cm
Dentalife IPA 70% is the "soft" alcohol providing antibacterial, cleaning and solvent properties but gentle on skin and surfaces.
TGA tested under dirty conditions for effective and rapid broard spectrum disinfection. Safe for use on most surfaces and equipment.
For cleaning and sanitising surfaces and instruments.
Preferred alcohol for general purpose use in surgeries

Broad spectrum anti-bacterial activity

Evaporates after use without leaving residues

Gentle on hands and skin
Not to be added to other cleaning or disinfectant solutions unless indicated by the manufacturer.
Secure, resealable canister to protect wipes and prevent dry out.
Store below 30oC in a cool dry place.
DL0920 Clinicare Alcohol 70% IPA Towelette Canister 220 wipes