Clinicare Alcohol Free Hg Disinfectant Towelette Refill (180) 15x17cm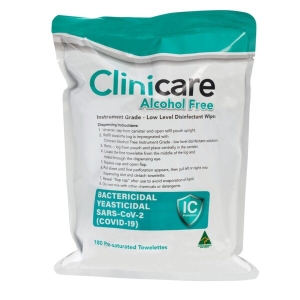 Product Information
Purchase Price (inc GST)
$15.80
| Quantity | Price (inc GST) |
| --- | --- |
| 1 | $15.80 |
| 12 | $14.71 |
Product Description
Clinicare Alcohol Free is a Hospital Grade – Disinfectant Wipe.
Cinicare AF wipes are a combined cleaning (decontaminant) and disinfectant wipe, suitable for use on hard surfaces.
The wipes are perfect for use on surfaces and equipment that are frequently used such as light switches, door handles, tabletops etc.
Clinicare Alcohol Free is effective against bacteria (Bactericidal), Candida albican (Yeasticidal) and SARS-CoV-2 (Covid-19).
Indications:
For the use in dental surgeries, hospitals, isolation areas, neonatal units, Aged care, and other critical care areas where environmental control of cross-contamination is important.
Directions:
When decontaminating or disinfecting a surface, wipe from clean to dirty. The rationale is that the least contaminated surface is cleaned first, moving towards 'dirtiest' surfaces, thereby reducing the risk of transferring a more heavily contaminated surface load to a less contaminated surface.
Instructions on the product label: pre-clean the surface using Clinicare Alcohol Free or Clinicare Neutral Detergent to reduce contamination and prepare the surface. Dispose of all materials used for decontamination. To disinfect surfaces, thoroughly wet the surface using Clinicare Alcohol Free wipes and leave wet at room (ambient) temperature for the activity time required (kill time).
DL2320R - Clinicare Alocohol Free HGD Towelette Refill (180)