Clinicare Suction Cleaner Dw 1 Litre Bottle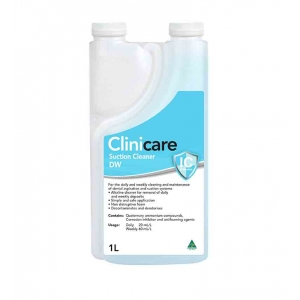 Product Information
Purchase Price (inc GST)
$25.87
| Quantity | Price (inc GST) |
| --- | --- |
| 1 | $25.87 |
| 3 | $24.02 |
Product Description
Clinicare Suction Cleaner is for the Daily and Weekly clean of suction and aspiration systems.
Liquid Concentrate for simple preparation of solution for daily and weekly flushing of:
Aspiration systems

Suction Systems.

Spittoons.
Advantages:
Three actions - decontaminates, sanitises and deodorises.

Alkaline cleaner for removal of daily and weekly deposits.

Simple and safe application.

Non-distruptive foam.

Economical concentrate for preparation of:
2% dilution for daily cleaning and deodorising.
6% dilution for weekly maintemance and decontaminates
Aldehyde free, Phenol free, Chlorine free
Clinicare Suction Cleaner DW has a pleasant smell

The product is non (to very little) foaming

Does not leave a residue

Product is easily mixed:
For daily application mix 20 mL of solution with 1 L of warm water

For weekly application mix 60 mL of solution with 1L of warm water
Australian Developed and Manufactured
DL2711 Clinicare Suction Cleaner D/W 1 litre